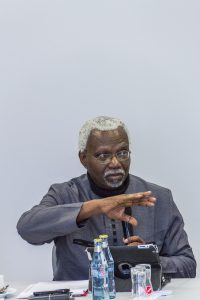 Dear Justice Ekpo Nta,
NIDO – Europe congratulates you on your appointment as "full -time "Commissioner of National Salaries, Incomes and Wages Commission NSIWC, Federal Republic of Nigeria.
As a seasoned, tested and trusted impeccable public servant and former Chairman of the respected Independent Corrupt Practices and other Related Offences Commission (ICPC), NIDO Europe, together with all NIDO continental chapters entrust you to continue to do the needful.
We remain at the service of your office as one of the center points of authority in NIDO Worldwide. We look forward to welcoming you soon to NIDO Europe AGM in Portugal in November 2017 to enlighten the Diaspora on how we could continue to support your office and hope you will also use the opportunity to introduce NIDO Europe to the new Chairman of ICPC for a continued collaboration with the Diaspora.
May wisdom, courage and achievements chart your path